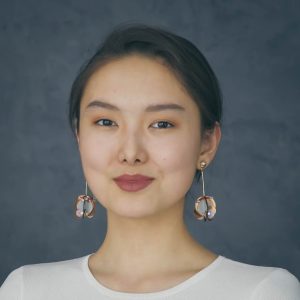 Almira Zhantuyakova
Student, Nazarbayev University
Almira got her BSc in biological sciences at Nazarbayev University (Astana, Kazakhstan) in 2019.
During her studies, she had several international grants to sponsor her research internships in the fields
of stem cells, metabolomics, and ecology. In 2018 she has been awarded one of the twenty Amgen
pharmaceutical company scholarships to study chemicals involved in psychiatric disorders at Max Plank
Institute of Psychiatry (Munich, Germany), where she presented her results at Amgen Symposium at
University of Cambridge (Cambridge, UK). Almira was a part of the Nazarbayev University iGEM research
team, where their bioremediation project won a gold medal at 2017 International Genetically
Engineered Machine Competition held at MIT (Boston, MA, USA). Due to the Yessenov Foundation
Scholarship, she is currently planning her research internship in embryology at NYU (New York, NY,
USA). In September 2019, she will begin her studies at the University of British Columbia (Vancouver,
Canada) in field of reproductive biology.