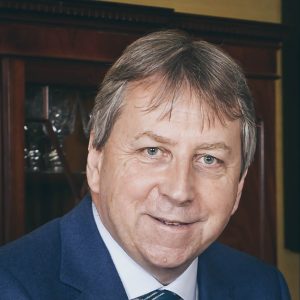 Peter Mathieson
Vice-Chancellor and Principal, University of Edinburgh
Professor Peter Mathieson MBBS(Hons)(London), PhD(Cambridge), FRCP(London), FMedSci assumed the office of Principal and Vice-Chancellor of the University of Edinburgh in February 2018.
Peter Mathieson was born and educated in the United Kingdom. He went to a state grammar school in Penzance, Cornwall and was the first member of his family to go to university. He read Medicine at the London Hospital Medical College and qualified with First Class Honours from the University of London in 1983. After junior medical posts in London, he obtained a research training fellowship from the Medical Research Council (MRC) to study at the University of Cambridge. He was awarded a PhD by the University of Cambridge in 1992. He became Director of Studies for Clinical Medicine at Christ's College, Cambridge following his PhD. After a further MRC fellowship he moved to Bristol in 1995 as the foundation Professor of Renal Medicine at the University of Bristol and Honorary Consultant Nephrologist, North Bristol NHS Trust. In 1999, he was elected to Fellowship of the Academy of Medical Sciences.
In 2007, Peter became Head of the University Department of Clinical Science at North Bristol, was appointed as Director of Research & Development for the North Bristol NHS Trust, and was elected President of the Renal Association (the UK's national speciality association for nephrologists and renal scientists) in a competitive ballot of the membership, being the youngest President in its history. He served the full three year term as President and remained a Trustee for a further two years as Immediate Past-President.
In 2008 Peter was appointed Dean of the Faculty of Medicine and Dentistry at the University of Bristol, serving most of a sixth year after his initial five year term. He played a major role in the formation of Bristol Health Partners from 2008 onwards and was appointed as its founding Director in May 2012, a role he undertook alongside that of Dean. In April 2014, Peter assumed office as the 15 th President and Vice-Chancellor of the University of Hong Kong, a post he held until January 2018.
In 2011 he was awarded honorary life membership of the Australian & New Zealand Society of Nephrology. In March 2015 he was awarded Honorary Fellowship of Hughes Hall, Cambridge and in October 2016 Honorary Fellowship of Hong Kong College of Physicians. Of the various prizes and academic awards that he has received, he is most proud of being voted "Teacher of the Year" by Cambridge medical students in 1992; the Milne-Muehrcke award from the Renal Association and the National Kidney Foundation of USA for "most promising young researcher" from UK in 1997; the UK Renal Association Lockwood Award (for contribution to academic renal medicine) in 2004; and being voted "top teacher 2011-12" by Foundation doctors at University Hospitals Bristol.
Abstract of the speech:
Changing job market: a view from two continents
The role of universities has changed and we need to adapt accordingly; this is urgent. Two of the principal missions of universities are research and education: research constantly evolves, with incrementally increasing knowledge, changing methodologies and differing priorities. However it is in education that the changes are the most recent, dramatic and potentially existential. The advent of new technologies and the rise of alternative providers together with the expectations and needs of generation Z students plus the rapidly changing graduate employment scene combine to challenge universities of today to provide new curricula and transferable skills which are relevant to an uncertain future. Our future graduates will change career track frequently and are likely to move into roles which do not even exist today. They need flexibility and adaptability plus a commitment to lifelong learning. Entrepreneurial and innovative capacities will be more important than ever. Digital online technologies are not only the domain of the new education providers: they must become integral to our on-campus as well as our distance learning offerings. We need to focus less on providing primary information and more on assisting our students in the interpretation of information, the strategies for sorting reliable information from the unreliable and the intangible skills of problem-solving, team-working and situational learning. Much of the most valuable learning might take place outside the classroom: extra-curricular activities, international experiences, sport, social entrepreneurship, volunteering, experimentation in a protected environment and opportunities to generally get outside one's comfort zone will be key to ensuring that universities provide suitable learning environments. Greater emphasis on sustainability, social responsibility, caring, nurturing and supporting our students and staff, defining our values and collaborating to tackle the world's major challenges, as defined for example by the United Nations Sustainable Development Goals, will ensure that universities remain relevant. Adapt or die!